Union City Public Library has been Awarded a Statewide LSTA Technology Grant!
The Union City Public Library would like to thank the Institute of Museum and Library Services (IMLS) and the Indiana State Library (ILS) for making possible the acquisition of our new STimaging ViewScan 4 digital microfilm scanner/reader and its dedicated computer work station made through Library Services and Technology Act (LSTA) grant funding. This film reader/scanner will be used to provide improved access for library staff and patrons to content found on our hardcopy newspaper microfilm archive, which has 35mm camera film rolls depicting images of newspaper publications which were printed as far back as 1873.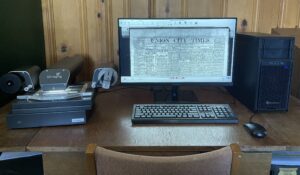 Library Services Update
The Union City Public Library is continuing to offer general Walk-in Service for:
-Browsing, and checking out books.
-Reference service
-Photocopying service.
-Faxing service.
These services are available during our current adjusted walk-in hours of:
Monday, Tuesday, Thursday, and Friday between 11:00 PM – 6:00 PM
Saturday between 11:00 AM – 3:00 PM
Wednesday and Sunday – Closed
The Union City Public Library is providing adjusted hours and services by phone request and reservation as follows:
Great News from Evergreen Indiana for our Patrons…
For your convenience you can now download the newly offered Evergreen Indiana "dedicated mobile apps for both Android and iOS devices so that our cardholders may search the catalog and manage their accounts from their phone or tablet!"
Welcome to Union City Public Library
Visit our webpage today to begin an adventure with a new book, gain information on an inquiry, surf the web, or learn more about Union City and the region.
We currently serve the residents of Union City, IN – OH, and Wayne and Jackson Townships in Randolph County. If you are looking for a book or movie, then head on over to the Catalog page. To learn more about what patrons of UCPL have access to, check out the Services and Resources tabs. If you would like to look at new books, online resources, or age specific programming for children and teens, then we invite you to look at the Youth tab. If you would like to see a calendar of our upcoming events, be sure to check out our sidebar menu. To learn more about Union City Public Library, head over to the About Us page. Information located on the Contact Us page will help you get in touch with UCPL, so that we can assist you with your reading needs, questions, and research interests.
If you haven't done so already, then make it a point to stop by. We look forward to seeing you soon when we reopen!